Yahya Dai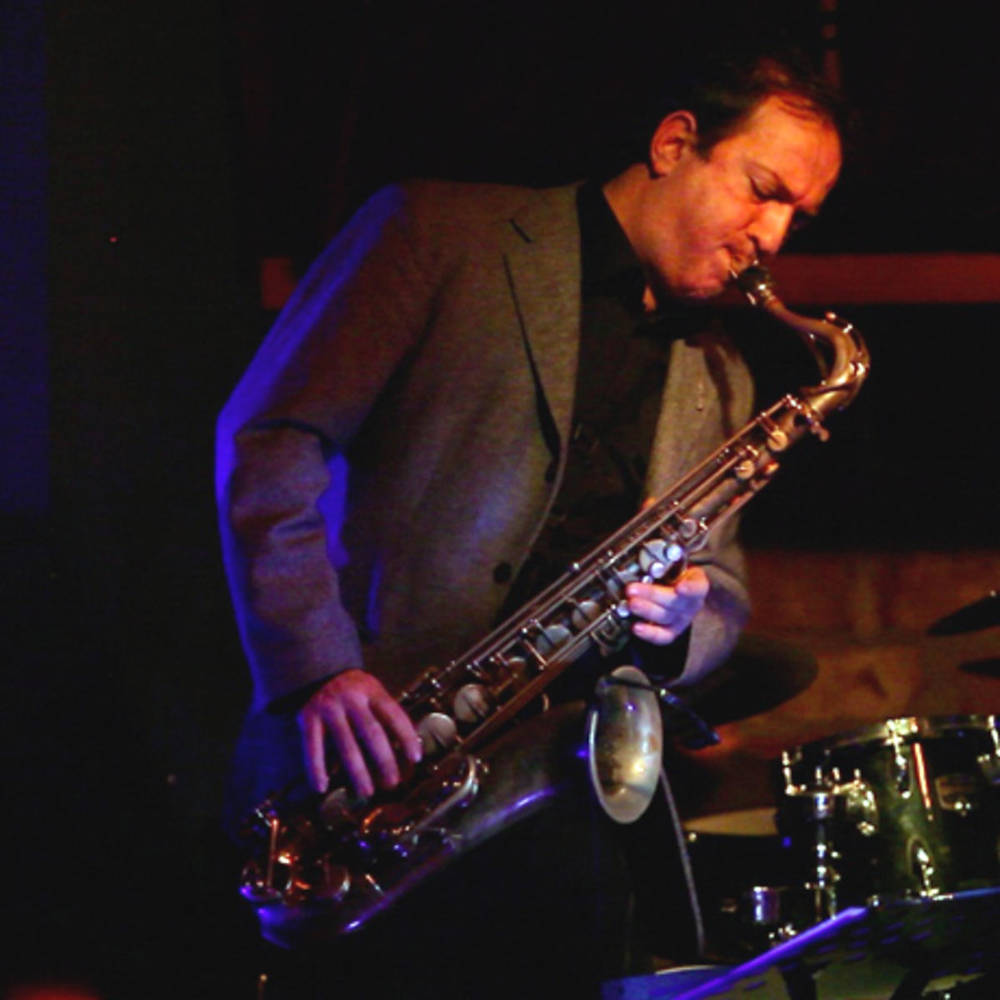 Yahya Dai was born in Ankara in 1963. In 1974 he started playing soprano block flute and then switched to saxophone in 1981. He also continued to play tenor saxophone, soprano saxophone, baritone saxophone and EWI. He performed with Tuna Ötenel for a long time in Ankara. Dai entered the Jazz Music Department at Bilkent University for a year and studied with Tomasz Szukalski. Dai founded "Yahya Dai Quartet" in 1990 with Ercüment Orkut (piano), Erdal Akyol (bass) and Ediz Hafızoğlu (drums). Since then they have been giving concerts not only in Turkey but also abroad: Germany, Austria, Switzerland, Italy, Hungary, Greece, Cyprus, Spain and the USA.
They joined many activities with Ali Perret "Acid Trippin", Önder Focan, Janusz Szproti and Alan Ginter (bass). Dai served as a saxophonist in the Ankara Municipality City Orchestra between 1991 and 1992. In 1994 he performed in events such as the "Light Music Concert" and "Ankara Pop Group", which were held within the Ankara State Opera and Ballet. He also participated in a concert of the Presidential Symphony Orchestra as a guest artist in 1994.
In 1999 he took the stage in Babylon (Istanbul) and "A- Train" Jazz Club (Berlin). In 2000 Dai had a workshop with Mile McMullen in the USA for three months and participated in jam sessions in Sacramento and San Francisco. In the same year Dai performed with Alper Yılmaz in the World Music Festival, which was held in U.C. Davis. Dai also participated in the 5th Mağusa Festival with the group "Asiaminor". In 2001 he took a stage with Aşkın Arsunan (Ethno Karma and Blue Print Project) and Erdal Kızılçay, and joined in the Cahit Berkay's "Film Music" project.
In 2002 Dai participated in the Joshua Redman Remix Competition which was held by the organization "Acidplanet.com", and received the third prize. He took a stage with the group "Asiaminor" in a concert which was held by "Moon & Stars Project" in New York Central Park.
Dai also performed with Ayşe Tütüncü Trio in the Prague Open Jazz Festival (2005) and in the London Jazz Festival and Jazz Lives in Syria (2007). He performed Shostakovich's "Jazz Suite No.2" in the concert of Şişli Symphony Orchestra in 2006.
In 2007 he performed in the Sound System Fair in Istanbul on the occasion of introducing Ableton Live Program under the name of Compel Company.
Yahya Dai continues his activities with many groups such as:
Yahya Dai Quartet;
Selen Gülün Quintet;
Şevket Akıncı's Lifeline;
"Kaval Sviri" with Sibel Gürsoy and İlker Özalp;
"Piyano Percussion Group" and "Ayşe Tütüncü Trio" with Ayşe Tütüncü;
Janet & Jak Esim Ensemble;
"Spin" with Sıtkı Sırtanadolu and Selim Bemba;
"Oriental Wind" with Okay Temiz;
Istanbul Super Band with Aycan Teztel;
"Michael Franks Project" with Murat Arkan;
"Film Müzikleri" with Cahit Berkay;
"B Plan".

Performances: Marcus Miller, Joshua Redman ,Wynton Marsalis, John Scofield, Dianne Reeves, Christian Mc Bride, Roy Hargrove, Emin Fındıkoğlu, Ron Blake, James Morrison, Danilo Perez, Russel Malone, Alper Yılmaz, Sibel Köse, Sarp Maden, Baki Duyarlar, Mahmut Yalay, Cem Aksel, Yavuz Darıdere, Murat Arkan, Murat Verdi, Murat Ejder, Oğuz Büyükberber, Çağlayan Yıldız, Aydın Esen, Ali Perret, Alp Ersönmez, Selim Selçuk, Craig Harris, Erdal Akyol, Fatih Erkoç, Tunç Çakır, Kirk Lighsey, Şenova Ülker, Levent altındağ, Orhan Topcuoğlu, Yaz Baltacıgil, Ebru Yazıcı, Feyza Erenmemiş, İlhan Erşahin, Okay Temiz, Okan Ersan, B Sharp Jazz Quartet, Grove Collective, Güray Aktalay, Şenol Küçükyıldırım, Ferit Odman, Selim Göksu, Bugge Wesseltoft, Mert Önal, Hakan Beşer, Tony Jones, Banu Ünüvar, Eylem Pelit, Meriç Demirkol, Melis Sökmen, Serdar Barçın, Sertap Erener, Peter Martin, Tuluğ Tırpan, Cladio Roditi, Jarek Smietana, Jan "Ptaszyn" Wróblewski, Krzesimir Debski, Cengiz Baysal, Volkan Hürsever, Valery Ponomarev, Wojciech Pulcyn, Kazimierz Jonkisz, Roberto Gatto, Mümtaz Solmaz, Bora Uzer, Bora Çeliker, Kerem Görsev, Keisa Brown, Işın Karaca, B.J. Crosby, Ricky Sebastian, Hazel Payne, Serkan Özyılmaz, Serhat Ersöz, Özay Feht, Erhan Seçkin, Lawrence "Butch" Morris, Volkan Öktem, İmer Demirer, Selçuk Sun, Nükhet Ruacan, Neşet Ruacan, Nilüfer Verdi, Aydın Kahya, Can Çankaya, Burak Bedikyan, Yıldız İbrahimova, Darius Brubeck, and Muaffak Falay.
Work
1. "Sokak Boyunca" (1991) - with Asiaminor
2. "Türküden Şarkıya" (1994) - with Tolga Çandar
3. " Sometimes " (1995) - with Tuna Ötenel
4. "Erken" (1995) - with Önder Focan
5. "Longa Nova" (1995) - with Asiaminor
6. "Kedi Rüyası" (1997) - with Asiaminor
7. "Türküleri Ege'nin 2" (1997) - with Tolga Çandar
8. "Sekiz" (1997) - with Önder Focan
9. "Midnite Rebels" (1997) - with Acid Trippin
10. "Musikarium" (1997) - with Derya Köroğlu
11. "Unutma" (1998) - with Arda
12. "Aşık" (1998) - with Ahmet
13. "Velvele" (1999) - with Oğuz Büyükberber
14. "1999" (1999) - with Gün Doğarken
15. "Unutulmayan Şarkılar" (1999) - with Özdemir Erdoğan
16. "Yeni" (1999) - with Yeni Türkü
17. " Nix" (2001) - with Tolga Tüzün
18. "Latin Türküler" (2002) - with Ercüment Vural/Pasaporte Latino
19. "Film Müzikleri 3" (2002) - with Cahit Berkay
20. "Mira" (2003) - with Janet&Jak Esim Ensemble
21. "Nova Express" (2003) - with Lifeline (Şevket Akıncı)
22. "Kıpır Kıpır" (2004) - with Deniz Arcak
23. "Kahvaltıda Caz" (2004) - with Aşkın Arsunan Sextet
24. "New Frontier" (2005) - with Lifeline (Şevket Akıncı)
25. "Adio" (2006) - with Janet&Jak Esim Ensemble
26. "Panayır" (2006) - with Ayşe Tütüncü
27. "İlk" (2006) - with Spin (Sıtkı Sırtanadolu, Selim Bemba)
28. "Sürprizler" (2007) - with Selen Gülün
29. "İ.S.B. Plays Ömer Göksel" (2007) - with İstanbul Superband
30. "Yedi Yer Yedi Gök" (2008) - with Ayşe Tütüncü Piyano Perküsyon Grubu
31. "Issız" (2009) - with Sumru Ağıryürüyen
32. "Hüthüt" (2009) - with Ercan Özaksoy
33. "Yeni Binyılın Aşığı" (2010) - with Azize Elif Kayalıdere
34. "Live at Nardis Vol.1" (2010) - with Yahya Dai Quartet
35. "Aşkhane" (2011) - with Gülay Sezer
36. "Turkish Standarts Vol.1" (2011) - with Yavuz Akyazıcı Project
37. "Göz Bebeğim" (2011) - with Burçin Buke
38. "Ümitvar Mavi" (2011) - with Yahya Dai Quartet
39. "Yol" (2012) - with Sibel Gürsoy
40. "Bizim Şarkımız" (2012) - with Buçin Büke ve Bizim Şarkımız Müzikali Orkestrası
41. "İçimde aşk var" (2012) - with Şenay Lambaoğlu
42. "Topyekün" (2012) - with Levent Yüksel
43. "Alem Dünya" (2013) - with Kenan Vural
44. "London Blues" (2013) - with Mete Ege
45. "Short Stories" (2013) - with Yavuz Akyazıcı4
46. "Oğul" (2013) - with Kerem Turhan
47. "Zarf Tümleci" (2014) - with Şenay Lambaoğlu
48. "Turkish Standarts Vol.2" (2014) - with Yavuz Akyazıcı Project
49. "25.Akbank Caz Festivali" derleme albümü (2015) - with Ayşe Tütüncü
50. "Uykuda Bir Bulut" (2016) - with Deniz Taşar
51. "Zamboni Sokağı" (2017) - with Mehmet Güreli
52. "Uçurtma Uçuran Kız" (2017) - with Kerem Turhan